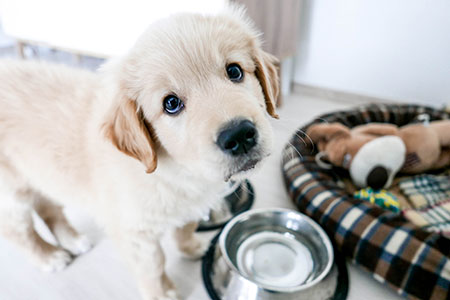 The first months of a puppy's life are critical to ensuring they grow up strong and healthy…
Puppies must get the right mix of nutrition and exercise to help their bones and muscles develop properly. Dogs are built to eat a diet packed full of fresh meats and a limited amount of fruit and vegetables.
What should owners be looking for in a dog food?
Does it contain at least 50% meat to give them enough animal protein and fat to help them build and maintain strong bones and muscles?
Does it include a good amount of fresh meat, which should be preserved by refrigeration only, without artificial preservatives to lock in their natural goodness?
Is the meat in whole prey portions, providing a nourishing balance of meat, organs and cartilage to mirror the natural diet?
Does it include a variety of meats from different animals?
All our ACANA puppy food are loaded with 70% free-run poultry, fish and whole cage-free eggs, as well as vegetables, fruits and botanicals.
ACANA puppy foods have the second highest Nutritional Rating at 95% of the dry pet foods listed on the AllAboutDogFood.co.uk website, second only to their sister brand of ORIJEN.
If you have any nutritional questions, please do get in touch with us at Sales@BernPetFoods.co.uk or call 01737 767679.