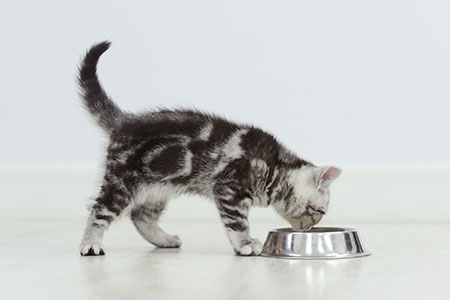 Nutrition is vital in ensuring the best start in life for cats…
Kittens get their energy from animal proteins and fats, rather than plant-based proteins and carbohydrates. Their teeth, jaws and digestive system have all evolved to suit a diet rich in a fresh and diverse range of meats, supplemented by some fruit and vegetables.
Cats naturally eat small meals, and kittens are no different. Start with the feeding guidelines on the bag but monitor their growth and weight to ensure they remain healthy, adjusting portions as needed.
New ACANA First Feast is designed to support healthy skin and coat development in kittens, encourage strong muscle and bone growth, as well as healthy eye and brain development and function. Brimming with free-run chicken, herring, turkey, eggs and quail, First Feast contains 70% small prey animal ingredients, just what your kitten needs to keep it happy, healthy and strong. Once your kitten matures into an adult cat then there are a number of other varieties of food available in the ACANA cat range.
Our delicious ACANA Grain-free cat range, suitable for all life stages, are loaded with fresh and raw ingredients, free-run poultry, cage-free eggs and wild-caught fish. Every recipe feature 75% small prey animal ingredients and 25% fruit and vegetables to nourish your kitten completely.
If you have any nutritional questions, please do get in touch with us at Sales@BernPetFoods.co.uk or call 01737 767679.