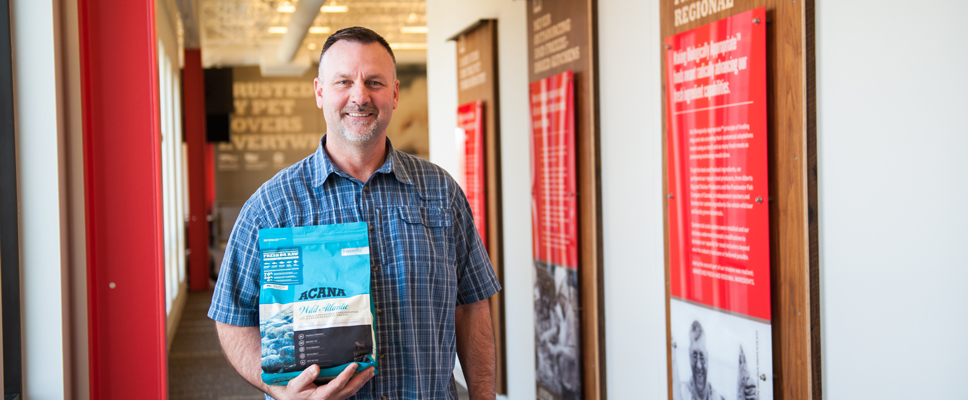 Never Outsourced
Award-winning food. Award-winning kitchen.
We're as passionate about making food as we are about our pets. That's why we've been preparing ACANA in our award-winning kitchen for over a quarter century.
We prepare ACANA foods and treats ourselves, with ingredients from trusted farmers, ranchers, and fishermen. We oversee every detail of food preparation, from where our ingredients come from, to cooking, quality, and food-safety process.
Did you know that most Specialty Pet Foods are Owned by Marketing Companies?
These days, most pet foods are owned by marketing companies that DON'T make their own foods and DON'T own a kitchen. Instead, they outsource production to third-party factories who make many different foods for many different marketing companies. That means they don't source their own ingredients and they don't prepare their own foods, focusing instead on marketing and promotions.
ACANA is Different
We prepare our own foods in our own kitchen, with our own cooks and ingredients, and we don't make foods for anyone else! When you choose ACANA, you can be sure your dog or cat's food has been made by us, with the same quality ingredients, care, and attention as a home-cooked meal. We wouldn't have it any other way, and believe you wouldn't either.
How to Tell the Difference
If the package says "made for", "produced for", "distributed by", or "distributed under licence by" it's a marketing brand, produced under contract as a private label. That means the company that owns the brand didn't actually produce the food – it just markets it.
If the package says "made by" or "produced by", you've found an authentic pet food. The company that owns the pet food brand is the same company that produced the food itself. We always suggest you contact a pet food representative to confirm where the food is made.
Champion is the developer and producer of ACANA foods. We own and operate our own kitchen and we make all of our own food, so you can have confidence knowing where your pet's food comes from.
The BAFRINO Research & Innovation Centre
Our BAFRINO Research & Innovation Centre is a world-renowned food innovation hub focused on advancing our Biologically Appropriate mission.
Read more about the BAFRINO Research & Innovation Centre