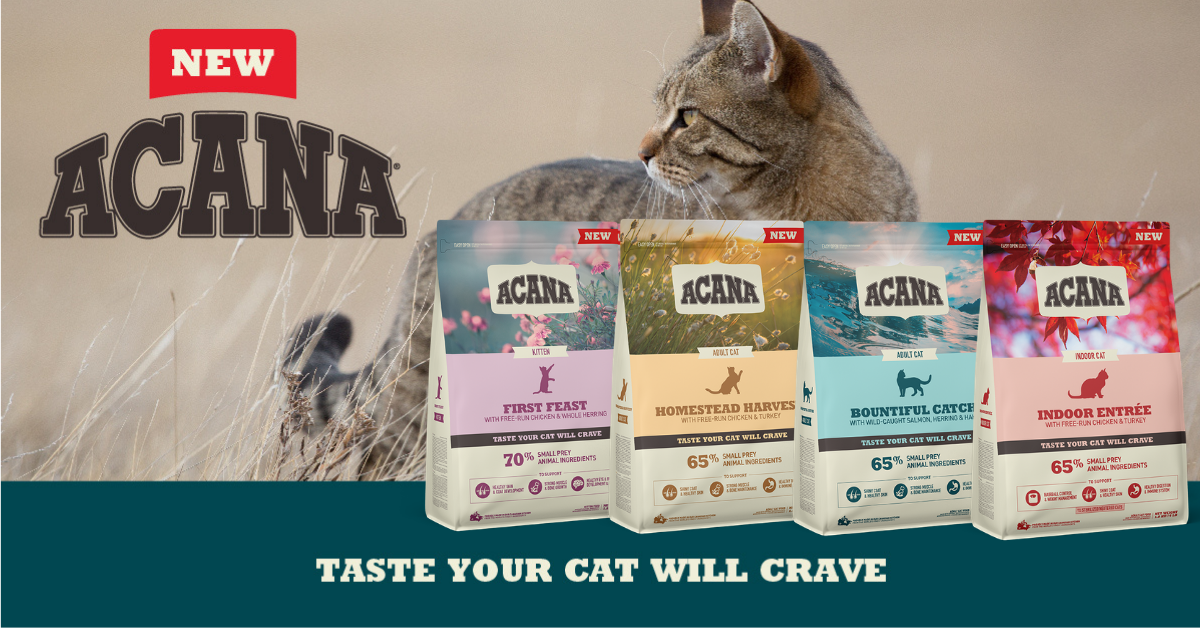 Recipes deliver optimum nutrition for different life stages and lifestyles
ACANA launches New ACANA Cat, a variety of four new protein-rich, delicious recipes that provide personalised nutrition for your cat.
Rich in animal protein: Each recipe contains 65-70% small prey premium animal ingredients, plus 1/3 of the meat in all the recipes is either fresh or raw.
Bursting with flavour: The combination of small prey ingredients and infusions of liver provide a burst of flavour for extra palatability.
Provides just what YOUR cat needs: New ACANA Cat offers a number of life stage benefits, including kitten, adult, and a recipe specifically formulated for indoor cats.
Encourages peak health: Each recipe is formulated to boost immune systems and encourage healthy hearts, eyes, skin and coats.
The four new recipes are:
First Feast is packed with chicken, herring, turkey, eggs and quail. It's suitable for all life stages, although it has been specifically designed to support healthy muscle and bone growth, eye and brain development – all perfect for a growing kitten.
Homestead Harvest is a delicious combination of chicken, turkey, eggs and duck.
Bountiful Catch is brimming with salmon, herring, hake and trout.
Indoor Entrée's tasty recipe includes herring, turkey and rabbit. Designed to aid weight management and lean muscle maintenance, Indoor Entrée is perfect for indoor cat who may be less active.
Colin Rodger, Managing Director of Bern Pets Foods, the exclusive importers and distributors of ACANA into UK and Ireland, says: "These recipes have been carefully designed to offer deliver a 'craveable' taste, ideal for fussy cats. The new ACANA Cat range will nourishing your cat naturally, keeping them healthy, happy and strong."
Every new ACANA Cat recipe is packed with quality ingredients but at an affordable price and are available in three sizes: 340g, 1.8kg and 4.5kg.